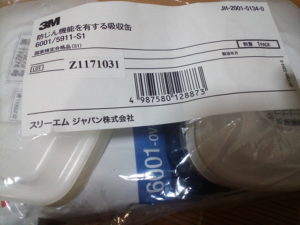 I feel that automobile maintenance facilities, which are run on a relatively small scale, are often not well managed by occupational health and safety compared to industries in other fields.
In the field of automobile maintenance, dust of the brake friction material that occurs, especially during the maintenance work of the braking device (brake device) will be a problem.
In the past, the brake friction material asbestos that is the cause of malignant diseases has been mixed, but now asbestos-free has become a commonplace, but not so when the alternative material is said to be completely harmless, the wrong recognition and work management mask-free workers are seen many.
Inhaling dust for a long period of time increases the risk of becoming a very difficult treatment for the "dust lung".
Wikipedia reference: dust lung
In the field where management is insufficient, it is necessary to work on the protection voluntarily so that the protective equipment is not attached while recognizing the danger because the symptom does not appear in the short term, and it does not send the rest of the life with a pitiful feeling after the onset.
From the 3M of the leading manufacturer, a surface that can be dust-proof of various scenes by replacing the attachment is prepared.
It is also recommended for those who are engaged in light metal and painting work beside automobile maintenance.
The feature of this model, called "Quick Latch", is a mechanism that allows easy attachment and removal, which is a very nice mechanism for workers.